The Villas of Grand Cypress Golf Resort in the News ...
Thank you for contacting the Villas of Grand Cypress media relations. For more information about the resort, press releases, or media inquiries, please contact us by phone or email.
MEDIA PHOTO LIBRARY:

Click here to visit our page on the Benchmark Hospitality International web site to download images in high and low resolution formats.
FACT SHEET:
Click here to download our fact sheet.
Free 4 All at Villas of Grand Cypress
05/16/2012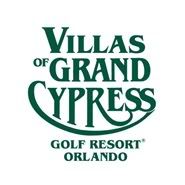 Free 4 All at Villas of Grand Cypress



Rewards Golfers For Playing and Staying
ORLANDO, Fla. – May 16, 2012
– Just for enjoying all the golf that Grand Cypress has to offer, the Villas of Grand Cypress is rewarding guests with a "free 4 all" - an extra round, an extra night's stay, or an extra lesson – free.
Orlando's premier golf resort, Grand Cypress has a new Four Man Best Ball package that offers two ways golfers can get more with four:



Pay for 3 rounds, get the 4th round for no charge (each day of play)




Stay 3 nights, get the 4th night for no charge (minimum two guests)



Offer available through September
And at the award-winning Grand Cypress Academy of Golf, the "Four-for-Three Golf Lesson" package adds on extras for golfers who take three 60-minute lessons with any of the PGA-certified teaching staff:



Complimentary fourth lesson (60 minutes)




Complimentary round (at available course)



Offer available through September
The Four Man Best Ball package –– includes access to all 45 holes of Jack Nicklaus' Signature design – the New Course is a links style 18 holes that pay tribute to the Old Course at St. Andrews, while the 27-hole North/South/East complex has hosted numerous professional golf tournaments.
Guests may choose from a variety of luxury resort accommodations, ideally positioned along the fairways and waterways of its golf courses. Options range from Club Suites to Luxury Guest Villas, with one to four bedrooms. Each provides spectacular views of the waterways, or fairways of the North Course, with private terraces, high-speed Internet access, flat-screen televisions, large baths, attentive housekeeping services and much more.
Also included in the package:



Shared golf cart (GPS-equipped)




Access to practice facility (unlimited range balls)




Complimentary club and shoe rental




Breakfast each morning




Not applicable to groups of 10 rooms, or more




Based on space available




Standard stay is 4-10 nights



The Grand Cypress Academy of Golf offers a comprehensive learning experience for players of all levels. The Academy has been named a "Top 25 Golf School in America" by GOLF Magazine, and provides lessons and clinics for both the novice seeking a good start in the game as well as the accomplished player who is in need of some fine-tuning.
Under the direction of Fred Griffin, recognized as one of the "America's 50 Greatest Teachers," the Academy's state-of-the-art facilities and programs, along with an expert team of PGA and LPGA certified professional instructors, provide an unparalleled learning experience, through proven, personalized instruction.


To line up a Four Man Best Ball package" at Grand Cypress, reservations may be made online and by calling (800) 835-7377.


For the "Four-for-Three Golf Lessons" package, call (407) 239-1975 or email lsnyder@benchmarkmanagement.com.


About Benchmark Hospitality International


Villas of Grand Cypress is managed by Benchmark Hospitality International, a leader in the management and marketing of resorts, conference centers, hotels, and Personal Luxury Hotels™. The independent company, launched in 1980, is a founding member of the International Association of Conference Centers. Benchmark Hospitality is a worldwide organization operating properties in major metropolitan and resort destinations. Benchmark's international headquarters is located in The Woodlands, Texas, near Houston. The company's northeast regional office is in New Jersey, with international offices in Tokyo, Japan, and Santiago, Chile. For the location of Benchmark's properties and additional information, visit www.benchmarkhospitality.com.
Contacts
Karen Moraghan
Hunter Public Relations
kmoraghan@hunter-pr.com
908-876-5100

Golf Courses of Study: Great Resorts That Will Teach You a Lesson
The curriculum at the Grand Cypress Academy of Golf, in Orlando, FL is nearly as wide-ranging as the rides at nearby theme parks. This GOLF Magazine Top 25 school spreads across 21 acres of grassy golf laboratories. The most intensive course of study is in the Fred Griffin Players School, a three-day program with only six students and two instructors including GOLF Magazine Top 100 instructor Fred Griffin himself. The school employs use of a ModelGolf swing analysis overlay, club recommendations based on the latest swing analysis and launch monitor data, two nine-hole playing lessons, and a one-year membership in the Academy's on-line Personal Improvement Program. Grand Cypress also offers a variety of other schools ranging from the Mental Impact program— Dr. Ryan Caserta's curriculum that teaches the mental game through sport-specific eye training— to women's' and junior programs. ... Read More
Valentine to the Villas of Grand Cypress
You're traveling on Florida's Interstate 4, south from the Convention Center and International Drive down to the Lake Buena Vista exit. You've been knocking around "I Drive" in all its cheesy "internationalism," or maybe you've been up at Universal Studios. Now you're rental vehicle is descending into Disney World / Epcot air space, bracing for the whole weltanschauung of that. Turn right at the end ...Read More